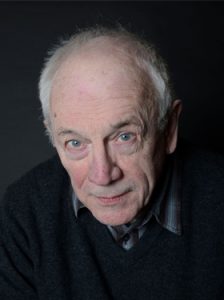 'Garner is indisputably the great originator, the most important British writer of fantasy since Tolkien, and in many respects better than Tolkien, because better and more truthful. … I salute him with the most heartfelt respect and admiration.'
Philip Pullman
Alan Garner is an author who has been named as one of the fifty greatest post-war English writers. He has written in many fields; novels; retellings of myths and folktales; a memoir; essays; libretti; film scripts; TV plays and documentaries; photographic books (with Roger Hill); and The Beauty Things, a view of how we react with history and memory (with Mark Edmonds).
His work has been translated into many languages, including Japanese; Czech; Russian; and Basque.
He has won several prizes for his writing, both national and international, and in 2001 he was awarded the OBE for services to literature. He holds four honorary doctorates and is a Fellow of the Society of Antiquaries of London and a Fellow of the Royal Society of Literature.
Alan Garner was born in 1934 and grew up in Alderley Edge, where Garners have lived since at least 1592. He was educated at Alderley Edge Council School, Manchester Grammar School and Magdalen College, Oxford. In 1957 he left Oxford without a degree and came back to his native land to discover whether he could write. He found Toad Hall, moved in, and still lives and works there.
His work inspires writers; story tellers; historians; archaeologists; and scientists, including Teresa Anderson, the Director of the Jodrell Bank Discovery Centre, as they reveal in their essays published in First Light which was edited by Erica Wagner.
In 2004 he co-founded The Blackden Trust.
For more information got to
https://en.wikipedia.org/wiki/Alan_Garner
The unofficial Alan Garner website (http://alangarner.atspace.org/)
Curtis Brown (https://www.curtisbrown.co.uk/client/alan-garner)