Mark Edmonds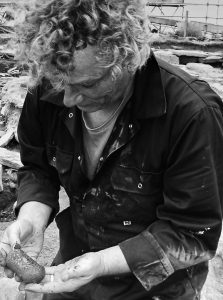 Mark Edmonds is Emeritus Professor of Archaeology at the University of York and Visiting Professor at the University of the Highlands and Islands. He has published numerous books on material culture and landscape, many of them exploring the intersections between archaeology and the visual arts. His recent books include Orcadia, Conversations with Magic Stones, The Beauty Things (with Alan Garner) and Stonework (with Rose Ferraby). Mark is co-founder of West Side Cinema in Stromness, Orkney, where he now lives. You can find out more about some of Mark's recent projects at: www.group6press.co.uk
Joyce Evers
After a long career in primary education, retirement enabled me to volunteer at Blackden, where I can indulge my love of history and feel that I am playing an important part in caring for such a special place. In 2009 the Friends of the Blackden Trust was formed to support the Trust and I'm proud to say I was a founder member and have been the secretary for many years.
My volunteering duties include tour guiding, being part of the education team and helping to organise the volunteers. I especially enjoy creating workshops for primary schools and introducing pupils and teachers to Blackden but I'm happy to lend a hand to anything that needs doing.
Being part of the tours is great fun and a wonderful way of meeting people from all over the country, especially with our collaboration with Jodrell Bank.
Every day is different and you learn something new with every visit. There's a real family feel about Blacken and I feel privileged to be part of its group of volunteers.
As we say around here, I've been bitten by Blackden!

Joyce Evers